Here are some summaries that the authors contributing to our cause have donated to share with us.
My Son by MinaRivera
Outtake from "Love & Secrets" in Ted's point of view of the day Edward, his son, finally confessed he was gay.
Strawberry Wine by kas90
Outtake from Strawberry Wine
Teach Me To Fly by evermine
Based on Surfer's Jake from Ride It. Jake's world has been turned on its head again... by fatherhood. He tries to teach his 4 year old son to surf - sharing his passion and source of panic - but Jake ends up learning some lessons himself along the way.
The Black Tie Affair by yesmrcullen
Edward gets more than he bargained for when he stands in for his brother at a charity event.
For The Love of A Stranger by CharliDenae
The ending of the 'War Between the States', brought joy to many, but for a hardened Major, and the young girl thrust upon him, their struggle for happiness was just beginning. Written for the Fandom4Cancer. JxA. AH. Rated M.
The Mistress In The Window by TheUnderStudy
She is a mystery wrapped around enchantment. She has lured him in to the death that surrounds this old home. There is chance he can escape; a way he won't be caught up in the madness. But he's enthralled by in the beauty behind the lens.
Coming Home by SweetLovinCullen
""You see, Edward is my fiancé but first and foremost he is a Marine."
Bella is guarded by Jake, her loving Husky while Edward protects the country he loves. Will Edward return to marry Bella or will his life be cut short far too soon? Second installment of the fic Coming Home.
Love and Loss (Bella POV) by TwiLucy_UK
Edward & Bella grew up together being the best of friends. Until Edward's 16th birthday when Bella left town. 10 years on, Bella comes back. Can they revive their friendship? Or is it too late? AH/AU EPOV. Rated M for language & eventual lemons.
Outtake to be BPOV of Edward's 16th birthday."
Comfortably Numb by KitsuShell
"After having his heart ripped out, Edward is just beginning to become comfortably numb when life throws him a curveball. In walks a fiery brunette that turns his world upside down.
Chapters to this story will be donated to various Fandom charities. "
Moving on Without Him by txgal77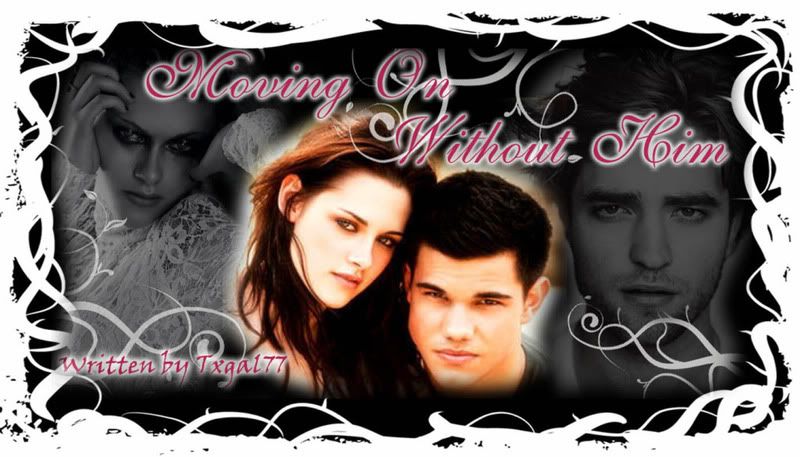 Bella gets shocking news the night before her wedding and her life changes forever. A year later she moves to Forks and meets Jacob who happens to be Charlie's new partner from the PD. Will she let her painful past affect her future? These are a few outtakes written in Jacob's POV. What his reaction was the first time he met Bella, his thoughts on the day he buys Bella's engagement ring and when he learns about being a father on his birthday/wedding day.
Nine Days to Eternity by Artemis Leaeana
Edward & Bella have been best friends since birth. They've seen each other through good & bad times, and been each other's "first" for just about everything. Their unique friendship has worked for both of them, until recently, that is. Can they survive the change? What will it mean for their friendship?
HorseShoe by LaurieWhitlock
Set after Breaking Dawn: Jasper is watching Renesmee one day and she asks him to tell her the story again of how he got his horseshoe necklace as its one of her favorite stories about his human life.
Jettlagged by vbfb1
Isabella Swan is a famous actress, her boyfriend Edward Cullen a lead singer in an up and coming rock band. How do they deal with being separated for their jobs.